Key occasions
Erik ten Hag talks to Sky Sports. "It is important … this club belongs in the Champions League … but it's not easy in the Premier League, it's a tough competition … seven or eight clubs compete so it's a massive performance … you can see Chelsea had outstanding players and caused us problems but in counters we were really good … we scored four and we should have scored more, but to be honest they could score too … our organisation was better in the second half … they were open and you have to take advantage, to strike … Sunday is important because we can be third in the league … we keep focused and not get injuries … our team has a good spirit … we are in the right direction … we know we are still not where we want to be … but if you want to be successful you have to be in the Champions League … next week is going to be big and huge and we will do everything in our power … it's not going to be easy … but we have a great opportunity to get that cup."
As for the injuries to Antony and Luke Shaw: "Let us wait 24 hours."
Bruno Fernandes speaks to Sky. "It's a decent season … it's not perfect because we want more … but we won a trophy and got the top four … now it's about finishing the league well, and going to the FA Cup and winning … we have won many games at home … the fans have been creating a great atmosphere for us … we know the fans are happy Liverpool are not there [in the Champions League] but for us it's not about that, it's about ourselves … the FA Cup final is about winning the trophy for us … we know if we win it we ruin the option for City of winning the treble, but for us it is about getting another trophy."
A slightly strange game, in so much as Chelsea, had they shown any sort of competence up front, could easily have been leading at half-time. But United were more clinical. Then in the second half, United took it up a couple of gears, and Chelsea had no answer … although João Felix's goal was neat enough. Shame Chelsea don't have an option on him. And so Erik ten Hag has ticked the two boxes asked of him at the start of the season: get back into the Champions League, and win a trophy. As for Chelsea … well, there are more questions than answers. The end-of-season debrief at Stamford Bridge is going to be quite the investigation.
FULL TIME: Manchester United 4-1 Chelsea
Manchester United are back in the Champions League! Chelsea in tatters; Old Trafford en fête.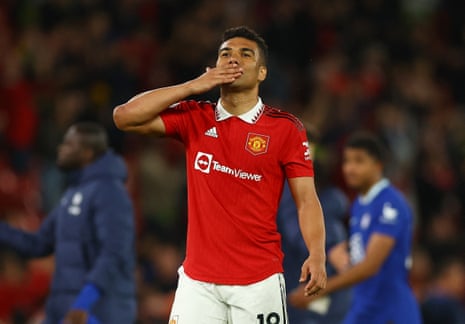 90 min +3: Sancho cuts back from the byline on the right. McTominay's shot hits Kepa in the chest.
90 min +2: Fernandez attempts to release David Fofana down the middle but his pass is blocked. "Being a Chelsea fan is not even [Word redacted by Sweary Ed] now," writes Carl Whinder. "It's just bewildering."
90 min +1: The first of four additional minutes passes quietly. On Sky, Gary Neville names Casemiro as his player of the match.
90 min: Space for the lively Garnacho down the left. He shoots low and hard from a tight angle. The ball pings off Kepa and out for a corner, from which nothing comes.
GOAL! Manchester United 4-1 Chelsea (Felix 89)
Felix picks the ball up in the centre circle and drives down the middle. He's got team-mates either side of him, but upon reaching the edge of the United D, threads a lovely low shot across De Gea and into the bottom left. "We've scored a goal!" trill the Chelsea fans, enjoying themselves in Gallows Humour mode.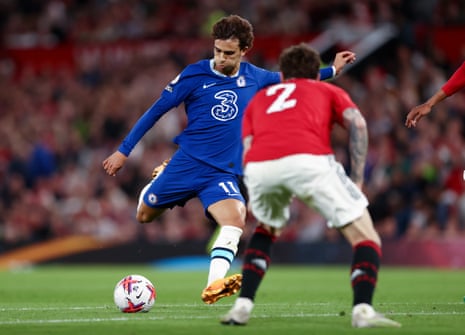 87 min: Loftus-Cheek and David Fofana attempt a one-two down the inside-left channel, but Casemiro isn't having a bar of it. He stands firm to usher the ball out for a goal kick. "I don't know how much Man Utd paid for Casemiro but he oozes the class of a player who has seen and done it all for the Galacticos," writes Colum Fordham. "Goals, assists, the lot. And he's worth more than all the crazy purchases that Chelsea have made this year put together. He's (partly) the reason Man U and not my team Liverpool will be playing Champions League football next year."
85 min: Fernandes is replaced by McTominay. He receives the ovation he deserves for a fine performance.
84 min: Garnacho cuts in from the left and aims towards the top right. His shot pings off the lunging Chalobah's backside and onto the bar. That would have put the tin lid on this fiasco for Chelsea.
83 min: David Fofana dribbles hard down the left and briefly threatens to fashion an opportunity to shoot. But Lindelof closes him down and shuts the door. Here's Colm Ó Riain: "Despite so many delicious storylines from this year's decades-long season vying for our attention, it still amazes me how little attention relatively is being given to the fact that the World Club Champions of February 2022 'celebrated' by spending over $500million .. to finish in the bottom half of their domestic league for the first time since 1996." Oh there'll be attention. The close season drags on. Attention's a-comin'.
82 min: Chelsea make a triple change. Chukwumena, Madueke and Gallagher are replaced by Loftus-Cheek, Ziyech and David Fofana.
80 min: A cross from the Chelsea right. Pulisic goes up for the header. A foul on De Gea, who shoves Pulisic in the back. Pulisic turns with a view to throwing hands. Lindelof gets involved, before everyone calms down a little. Chelsea's frustrations are obvious.
GOAL! Manchester United 4-0 Chelsea (Rashford 78)
Fofana plays out from the back. Carelessly so, a right-to-left pass across the front of the Chelsea box. Sancho intercepts by the right-hand edge of the D and rolls inside for Rashford, who gets a bit of luck with a deflection off Kepa before pouncing on the loose ball and rolling into the empty net from six yards. Chelsea are in tatters.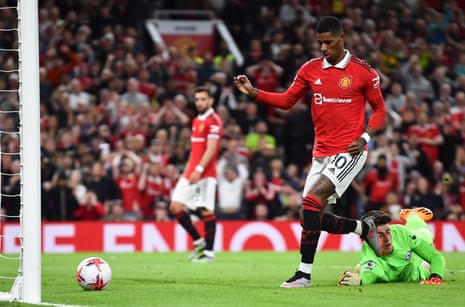 77 min: Fernandes rakes a pass down the inside-left channel and nearly releases Rashford, who is forced to turn tail. But he exchanges passes with Garnacho, then curls powerfully towards the bottom right. Wide. No matter, though, because …
75 min: As Fernandes celebrates, Fernandez and Malacia engage in a shoving match. For a second, it threatens to kick off, but it all calms down soon enough. Malacia and Fernandez are booked.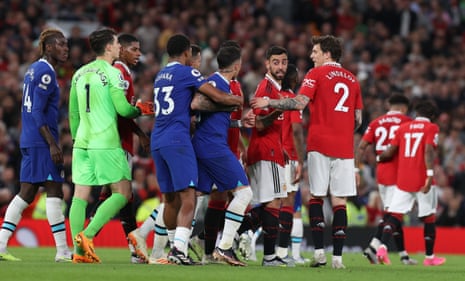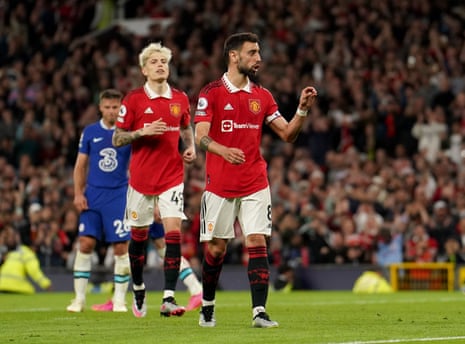 GOAL! Manchester United 3-0 Chelsea (Fernandes 73 pen)
Fernandes gives Kepa the eyes. The keeper moves, and Fernandes pings a sidefoot into the bottom right. Clinical!
72 min: Fernandes nutmegs Fofana and enters the box down the left. Fofana, frustrated, hangs out a leg and clips his opponent. The referee points to the spot, and this is the first penalty Chelsea have conceded in the Premier League all season.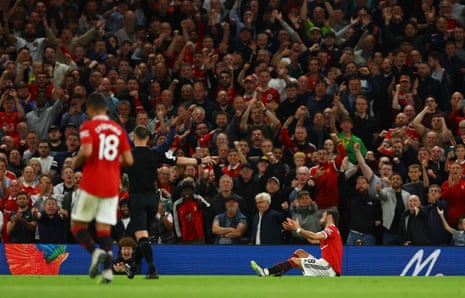 71 min: United make a double change, replacing Eriksen and Martial with Garnacho and Fred.
69 min: United fans relax: it ain't so. VAR checks and, though Casemiro wafts a hand in Gallagher's face, it looked accidental as the pair tussled, off-balance, for the ball. We play on.
68 min: Gallagher bursts down the inside-left channel and into the United box, where he goes over clutching his face. Casemiro in the immediate environs. United fans will hope it ain't so.
67 min: … but it leads to nothing.
66 min: Felix is quickly involved, combining with Azpilicueta down the right to win a Chelsea corner …
64 min: A double change for Chelsea: Havertz and Mudryk make way for Felix and Pulisic. Havertz has the audacity to throw a small tantrum as he departs. Given how blunt he and his team-mates have been in front of goal today, and indeed for the entire season, he'd do well to keep his counsel.
63 min: Chukwuemeka has the opportunity of releasing Hall into space down the left, only to overcook the pass. United counter into the space Hall has left behind him, Sancho tearing upfield. Chelsea breathe again as the move breaks down.
61 min: Madueke zips into the United box from the right and stands on Casemiro's foot. He goes over and claims a penalty. Neither referee nor VAR shows any interest in meeting his demand, quite rightly so.
60 min: Madueke dribbles in from the right only to lose possession. Rashford steams forward on the counter, then sends Fernandes into the box on the left. Fernandes is within his rights to shoot – the angle's not that tight – but opts to cut back in the hope of returning the ball to the in-rushing Rashford. But the pass takes a nick and flies behind Rashford. His generosity reaps no reward.
59 min: … Hall drives a shot goalwards from a tight angle on the right. De Gea parries the screamer brilliantly. The ball pings back to Mudryk, whose latest scuffed shot is deflected into the grateful keeper's arms.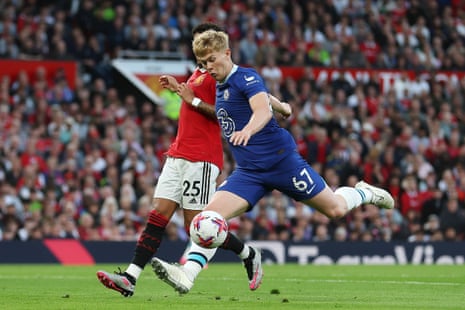 58 min: Madueke drives down the right and draws a free kick from Malacia. Then Azpilicueta is sent into space on the same flank. He wins a corner, from which …
56 min: Mudryk sashays in from the left only to be clattered by Wan-Bissaka. Just a stern word from the referee, who is in end-of-season lenient mode.
54 min: Azpilicueta goes down again and requires some more treatment. He's going to battle on.
52 min: United want another, though. Malacia crosses low from the left. Eriksen tries to bundle home but Kepa scoops off the line. The ball breaks to Casemiro, who passes a shot wide right. So close to a third.
50 min: … so with perfect comic timing, Mudryk dribbles in from the left and scuffs a shot towards the bottom left. De Gea sees it late and tips around the post for a corner, from which nothing develops. Better from the expensive winger, though the bar's not been set high.
49 min: Gallagher and Madueke have combined well down the right this evening, and again they threaten to open United up with some crisp passing. Not quite, but if Chelsea are going to get back into this, the right flank might be their best option. "I know, given the way the season's panned out, this point is rather moot," begins Russell Yong, "but considering how hard they tried and who they eventually got, Arsenal must be so, so glad they got a PL-ready, up-for-the-fight Trossard and not Mudryk who, granted, did not become crap overnight, but looks far from ready as a Premier League player."
47 min: United nearly make it three in short order! Lindelof robs Gallagher in midfield and United break forward. Sancho makes good down the inside right and cuts back for Fernandes, who aims for the top-right corner and only just misses, rattling the junction of post and bar instead. Lovely move.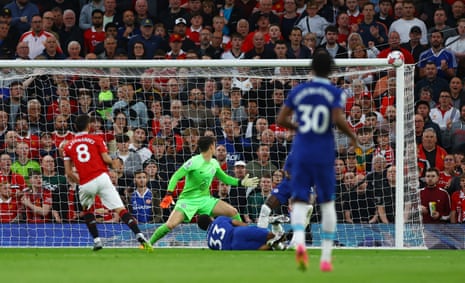 Manchester United, who are closing in on making it 11 unbeaten against Chelsea, get the ball rolling for the second half. Malacia replaces Shaw, while Richard Hirst (8pm) busies himself by downgrading his pre-match hopes: "Well, I suppose I'll have to console myself with the possibility of Chelsea falling further down the table: Wolves and West Ham must be licking their lips."
Manchester United haven't lost a league game at home after leading at half-time since Ipswich Town turned it around against Ron Atkinson's side in 1984. Given that astonishing statistic, we can say with some confidence that Erik ten Hag's men have one foot and four toes in next season's Champions League. They're also going to leapfrog Newcastle into third place as things stand.
HALF TIME: Manchester United 2-0 Chelsea
This is Chelsea's season in microcosm. They've enjoyed more possession, and created more chances … and look at the scoreline. Had Chelsea shown even a smidgen of competence in the final third, they'd surely be leading this match. Erik ten Hag isn't fooled, and storms off down the tunnel with a look on his face that suggests some home truths are a'-coming the way of his defenders.
GOAL! Manchester United 2-0 Chelsea (Martial 45+5)
Fernandes tries to break clear down the right. He's blocked. The ball breaks to Casemiro, who wedges a pass down the inside-right channel for Sancho. One touch, and the ball's rolled across the face of goal for Martial, who sidefoots into an empty net. A goal and an assist (sort of) for Casemiro!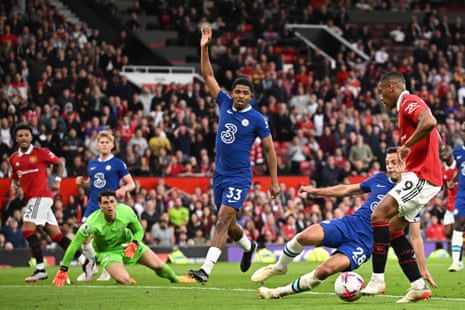 45 min +4: Space for Sancho down the inside-right channel. He's got options in the middle, but cuts back to nobody in particular, allowing Chukwuemeka to waltz off upfield. Old Trafford groans.
45 min +3: Tough crowd in tonight, by the way. "From a technical standpoint this has been pathetic," writes John Ryan, while Rotimi Styles adds: "I am beginning to doubt Mudryk's abilities as a professional footballer."
45 min +1: The first of six added minutes passes by without incident.
45 min: Fernandez slips a pass down the inside-right channel for Gallagher, who enters the area and scuffs a shot across De Gea and inches wide of the left-hand post. Yet another huge chance spurned! It's not often I'll say this, but I'd be interested to know the xG of this first half.
44 min: Azpilicueta's cute backheel sends Gallagher into some space down the middle. He opens his body and aims a curler towards the top-right corner of the net. It only finds the top-right corner of the Stretford End. A couple of better-placed team-mates berate him for his inaccuracy, though given what's happened previously, they've got a bloody cheek.
42 min: Madueke drives down the right and cuts back for Gallagher, who can't get the ball under control, six yards out, for a shot. United half clear but Chelsea come again, and once more it's Madueke, who reaches the byline on the right before crossing deep towards Hall. The young left-back chests down and shoots, but that's blocked. Chelsea are well on top right now, and creating chances. No idea how they haven't scored at least once.
40 min: Fernandez rolls an inviting pass down the inside-left channel for Mudryk. Any player with any sort of confidence would take a touch, enter the area, and shoots. Mudryk has none, though, and with his first touch absolutely blooters the ball down the channel and out for a goal kick.
39 min: Mudryk one-twos with Havertz down the middle and nearly works an opportunity to shoot. But he can't quite get the ball under control, and United clear.
37 min: A slight lull. Hey, it's been a long season for everyone.
35 min: Sancho dribbles in from the left. He sits Azpilicueta down, only to then shoot into a thicket of other Chelsea defenders. Blocked. Cleared.
34 min: Fofana lightly clips Fernandes' heel in the Chelsea box. The referee waves play on. VAR has a check. It's one of those: not so clear or obvious, and so the on-field decision stands. Had the referee pointed to the spot, that decision would surely have stood as well. Good old VAR, eh? No.